Clinical data management
METRONOMIA, champions for better data
At METRONOMIA, we take pride in being champions for better data, ensuring that it is optimally defined, stored, monitored and processed for maximum value in your development portfolio.
Our people, processes and technology ensure that your data is:
Of the highest quality and precision, meeting or surpassing requirements and gold standards
Precisely monitored within a fluid feedback-loop allowing identification of risks/mitigations and opportunities
Protected and secured in a capsulated environment
Ready to pass when put to the test by regulatory agencies
A commodity in your clinical development portfolio by achieving its full potential
With a full range of clinical data management services, METRONOMIA'S data managers are your experts for:
Clinical studies of all sizes and all phases
New/existing drugs and medical devices
Stand-alone projects or complete clinical development programs
Outsourced data management acting fully as your data management representatives or as an extension of your own data management team
Your Single Data Center collaborating in unison with our Biostatistical group. Allow us to share our success stories, made possible by unsurpassable agility and dedication! Contact us for an appointment or references!
Clinical data management services comprise
Project Management and oversight
Outsourced Clinical Data Project Managers & Data Quality Control Managers
Clinical Development Portfolio, Program/Plan or Protocol consultation
Vendor Management
Technology Solutions Consulting
Risk-Based Monitoring Strategies
Trial Master File Management
CRF design and validation
Metronomia is providing for three leading EDC systems, CLINCASE, RAVE and VIEDOC, comprehensive services:
eCRF Design & Development
eCRF Annotation & Review
Database Design and Validation
Edit check programming, validation, and testing, UAT
Electronic Clinical Outcome Assessment (eCOA) and Electronic Patient Reported Outcome (ePRO) Design, Development & Validation
Set-up for targeted / selective SDV
Custom reports
EDC services
Supporting 4 leading EDC systems: Medidata Rave, Veeva Vault, Viedoc, and Clincase
eCRF access and user management
Development of training material, eCRF user manuals and completion guidelines
eCRF self-training, live-training and train–the-trainer
SAE reporting in E2B format
Integration with third-party eDiary/ePRO systems
Integration with third-party CTMS systems
24/7 EDC helpdesk
Management of external data
Import, reconciliation, and cleaning of all types of electronic data (lab, ECG, PK, eDiary, photo etc.)
Patient diary and PRO data management
Local lab data management
Day to day clinical data management
Continuous data review & validation
Data cleaning & query management
Serious Adverse Event (SAE) Reconciliation
Medical / Manual / SAS® Data Listings Review
Medical coding (MedDRA, WHO-DD or client's dictionary)
Real-time data viewing and reporting
Database snapshots, soft & hard lock
Data management documents and deliverables
Data Management Plan
Data Validation Plan
CRF Completion Guidelines (CCG) Development
Data archival and storage
Data export & transfer
CDISC CDASH and SDTM compliant deliverables
Vendor oversight support
We ensure compliance with ICH-GCP E6 (R2) oversight obligations on your behalf for outsourced statistical and data management functions:
Subject matter experts (SMEs) in stats and clinical data management provide oversight
High quality review of documents and deliverables received from vendors
Expert input to oversight management plan
Risk-based oversight activities compliant with ICH-GCP E6 (R2)
Support of vendor selection
Tailored implementation of Stats and clinical data management relevant KPIs
Systems
Metronomia is supporting four leading EDC systems each offering fully integrated solutions for eCRF, ePRO/eCOA, targeted SDV, IRT, randomization and others:
In addition, seeWise supplements our data focused strategy with powerful data visualization and medical monitoring & review functionality.
Biological data processing
read more about our non-clinical services.
Processing of in vitro or in vivo raw data and large complex data sets in an evaluable and publishable form: tables, graphs, presentations
Data visualization
Processing data in SEND format
Biological data management and set-up of databases for non-clinical data
"Paper" process
Systems and SOPs still available and maintained for high quality paper process
Serving strong demand for hybrid studies – eCRF plus paper-PROs or mixed paper- and e-PROs
Supporting paper CRFs and paper-based PROs
Data processing through double data entry
Independent verification – data entry QC
Supported EDC Systems
Selecting the right EDC system for your study is important. At METRONOMIA we support the following four leading EDC systems.
Rave
Widely considered the EDC market leader
Cornerstone of the Medidata Platform
Mature and comprehensive system
Very well accepted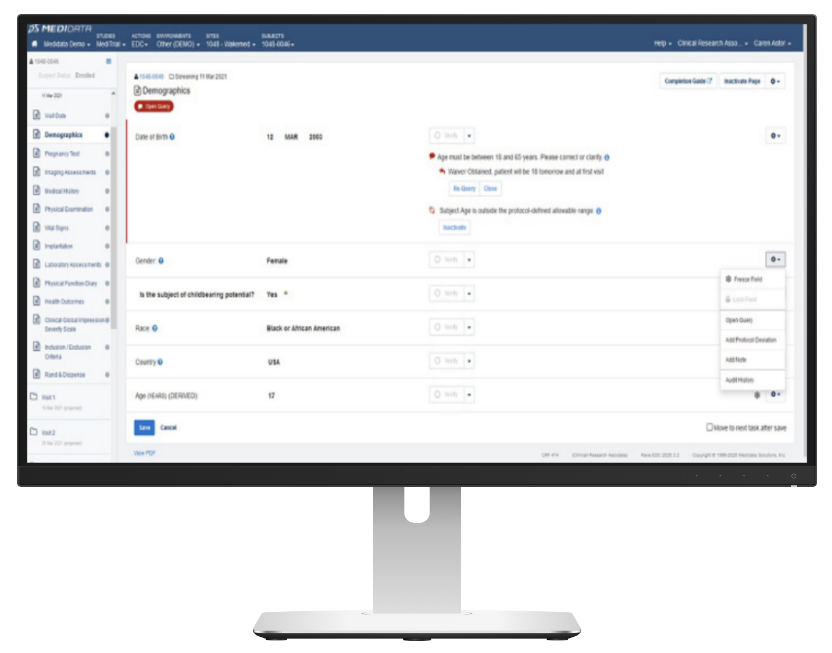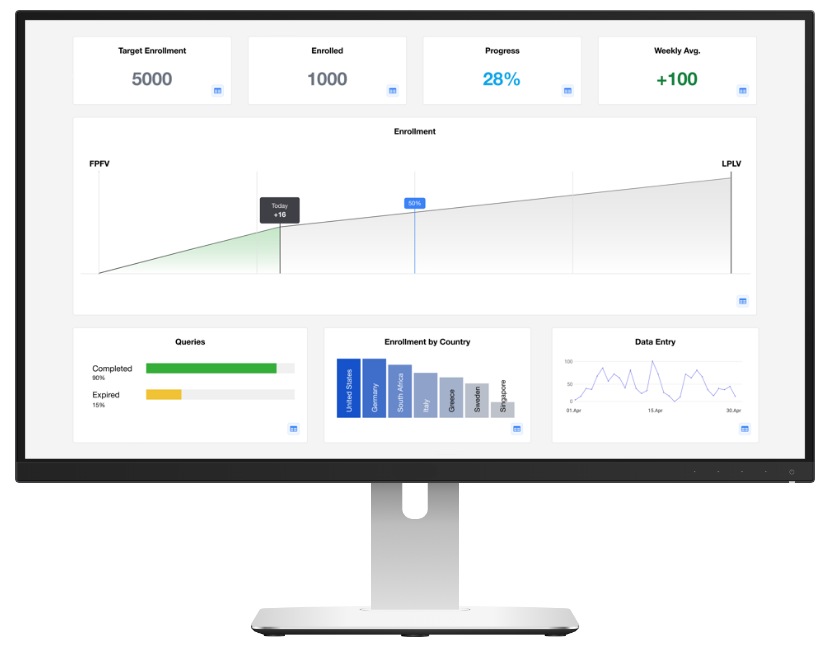 Clincase
Very flexible eCRFs
Very well suited for complex studies and SoAs
End user-friendly
Fully integrated modules: eCRF, ePRO, IRT, randomization, coding
Veeva Vault
Well-known and very modern system
Mature EDC system and integrated with a comprehensive clinical suite
Easily configured for complex, multi-arm adaptive trials
Integrates easily with well-known Veeva CTMS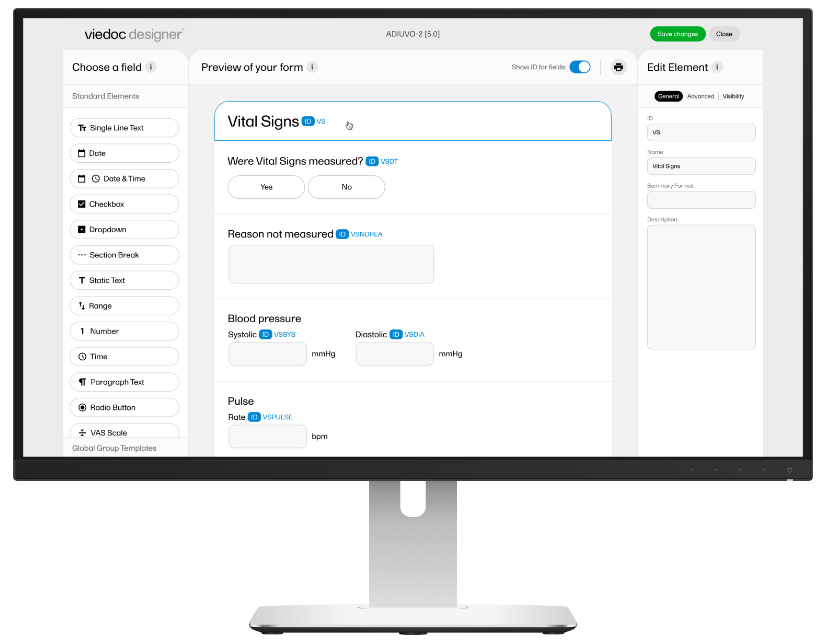 Viedoc
Well-known in the market
End-user friendly
Well suited for decentralized trials due to integrated eConsent module and possibility of tele-visits
Strong reporting functionality
"For over 30 years, METRONOMIA has been a great home for our employees and, equally as important, for our customers' data. Try us – you won't regret it!"